Education on Hydrogen
The following resources provide information about hydrogen and fuel cells. You may find our webinars under "PATH Archives"
---
CANADA
Canadian hydrogen and fuel cells in action
A 7' educational movie about hydrogen and fuel cells in Canada
(Courtesy of the Canadian Hydrogen and Fuel Cell Association)

UNITED KINGDOM
United Kingdom Hydrogen Association

Hydrogen Fact Sheets
Please credit the United Kingdom Hydrogen Association for their development at all times.
1) How Hydrogen Can Help
2) Hydrogen Safety
3) Hydrogen Distribution & Delivery
4) Hydrogen Storage

---
UNITED STATES
Hydrogen Fact Sheets
The National Hydrogen Association (U.S.) and the U.S. Department of Energy have prepared eight hydrogen fact sheets that present basic information about hydrogen production, safety, international efforts, and more. They are available for PATH Associations for download and distribution to the public.

Please credit the National Hydrogen Association for their development at all times.
1) Hydrogen Production from Coal
2) A Global Hydrogen Effort
3) Hydrogen Production from Nuclear Energy
4) Renewable Hydrogen Production Using Electrolysis
5) The Hydrogen Economy
6) The History of Hydrogen
7) Hydrogen Production Overview
8) Hydrogen Safety
---
Fact Sheets
1) Hydrogen Fuel Cells
2) Hydrogen Production
3) Hydrogen Distribution and Delivery Infrastructure
4) Hydrogen Fueling—Coming Soon to a Station Near You
5) Hydrogen Storage
6) Hydrogen Safety
7) Hydrogen Technology Validation
8) Early Markets: Material Handling Equipment
9) Early Markets: Emergency Backup Power
10) Comparison of Fuel Cell Technologies
11) A Comparison of Hydrogen and Propane Fuels
12) U.S. Department of Energy Hydrogen Program
Audio Files
The Hydrogen Report series provides a basic introduction to hydrogen and fuel cell technologies for non-technical audiences.
---
Hydrogen Education Foundation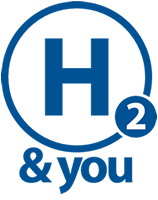 H2 and You is a website maintained by the Hydrogen Education Foundation which is designed to inform the public about the advantages of hydrogen. It features links to social media communities like Facebook and Twitter.
---
Renewable Hydrogen: Wind to Hydrogen
This video features the wind-to-hydrogen project, which uses electricity from wind turbines to produce hydrogen at NREL's National Wind Technology Center."
(Courtesy of Xcel Energy)
Renewable Hydrogen: Solar to Hydrogen
This video features the first Solar / Hydrogen House in the US located in Hopewell, New Jersey
(Courtesy of Roadjournal)